Al-Marsad and the Democratic Progress Institute (DPI) publish a new report examining the Syrian refugee crisis from a conflict-resolution and human rights perspective, focusing on the situation in Lebanon, Turkey, and Jordan – who together have received around three-quarters of Syrian refugees.
Report  available here: 

 The Syrian Refugee Crisis – Refugees, Conflict and International Law
Report summary available here: 

The Syrian Refugee Crisis – Refugees, Conflict and International Law – A Summary
---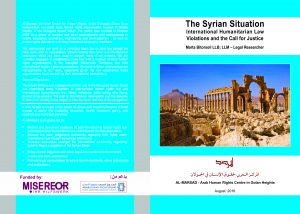 Since 2011 Syria has been devastated by a ferocious civil war that escalated into an internationalised conflict, in which government forces, rebel groups, extremist and terrorist groups, foreign fighters, and international powers are involved. Syria has become the arena in which international issues are at dispute at the expense of civilians. It is Al-Marsad's view that those responsible for war crimes and crimes against humanity committed in Syria should be prosecuted under international and national jurisdictions, regardless of their political affiliations. Alongside prosecutions, non-judicial mechanisms should also be established to assist with the process of reconciliation for the Syrian people, in the long term.
Report  available here: 

 The Syrian Situation – International Humanitarian Law Violations and the Call for Justice 
Report summary available here: 

 The Syrian Situation Humanitarian Law Violations and the Call for Justice – A Summary 
---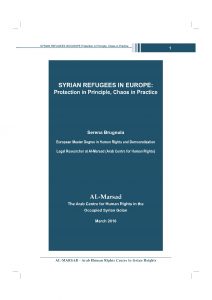 The conflict that has been devastating Syria for about five years is a tremendous and bloody war that has developed from peaceful demonstrations of protest against an oppressive and dictatorial regime into a tragedy of violence, death, and displacement. The "dreadful combination of (…) [the] Syrian government's indiscriminate attacks, including by barrel bombs and suffocating sieges, and atrocities by ISIS and other extremist groups" has made thousands of desperate people risk their life to reach Europe, seen as a 'safe heaven' just a sea journey on teetering boats or a perilous land route through the Balkans away. How is the international community, and in particular the European Union, coping with the situation?
Report available here:  

 Syrian Refugees in Europe: Protection in Principle, Chaos in Practice 
Report summary available here: 

 Syrian Refugees in Europe: Protection in Principle, Chaos in Practice – A Summary
---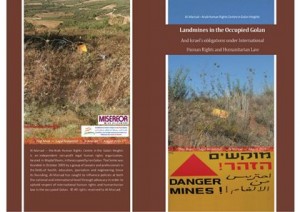 Traditionally, landmines have been used in military science as a defensive strategy, aimed at slowing the enemy down or denying armed forces passage through certain terrain. These explosive devices are often concealed or under the ground and are designed to destroy targets that cross them. They can be classified in two main groups; anti-personnel mines and anti-tank mines, aimed at persons and tanks respectively, as their names suggest. Sadly however, minefields tend to last longer than the conflicts they are used in, becoming remnants of war, injuring and killing people for many years after the conflict has ended and rendering areas unusable for decades. This has been the case in the Occupied Syrian Golan. In the aftermath of the Arab-Israeli conflict and the Israeli occupation of the Syrian Golan in 1967, millions of landmines have been placed by Israeli occupying forces, which have since constituted a real and lasting threat to the citizens of the Occupied Syrian Golan.
Report available here:  

 Landmines in the Occupied Golan: Israel's obligations under International human Rights and Humanitarian Law
---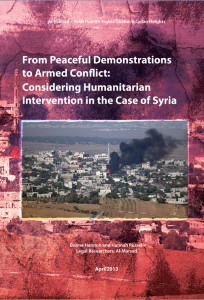 The current conflict in Syria has created international discord and divergent views regarding what constitutes the most appropriate response to a humanitarian crisis of this kind. According to the United Nations (UN) approximately 70,000 Syrians have been killed, more than 907,100 Syrians have registered as refugees or are awaiting registration, over 2 million have become internally displaced and 1 million Syrians are starving as a result of the ongoing conflict. To date the international community has exerted minimal effort in providing support to the people of Syria. Has the time come, or is it possibly overdue, for this effort to be increased to a level of humanitarian intervention, i.e. proportionate threat or use of military force by international forces?
Report available here:  

From Peaceful Demonstrations to Armed Conflict: Considering Humanitarian Intervention in the Case of Syria
---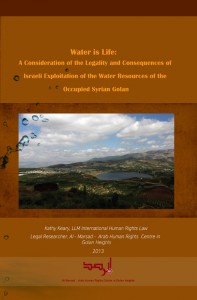 Water is becoming an increasingly valuable commodity in global politics and markets; this is especially evident in the relationships between Israel and their Arab neighbours.  Because of its very nature, water does not respect state boundaries and in many cases states are reliant on the goodwill of their neighbours to not redirect or contaminate their water resources.  The region of the Golan is a geopolitically and hydrologically important plateau located at the point of convergence of the states of Israel, Syria, Jordan and Lebanon.  It is Syrian land which provides a vital source of water for Israel. Consequently, it is no surprise that it became a part of Israel's territorial agenda which led to it falling under Israeli occupation in 1967. Since the occupation, the distribution of water has become discriminatory in nature. While Israeli settlers, whose inhabitancy of the Occupied Syrian Golan is illegal, enjoy unmeasured access, the Arab population, and rightful owners of the land, experience significant restrictions, severely aggravating their local economy.
Report available here:  

Water is Life: A Consideration of the Legality and Consequences of Israeli Exploitation of the Water Resources of the Occupied Syrian Golan 
Report summary available here: 

 Water Is Life: A Consideration of the Legality and Consequences of Israeli Exploitation of the Water Resources of the Occupied Syrian Golan – A Summary
---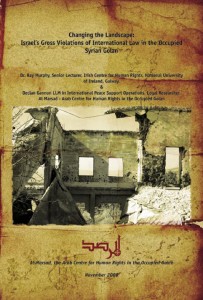 The area known as the Syrian Golan is a mountainous region and plateau in southwest Syria that borders Lebanon to the north, Jordan to the south, and Israel to the west.  The overall landmass of the Syrian Golan is 1,860 square kilometres, which is approximately one percent of the total landmass of Syria.  On the 5 June 1967, during the Arab-Israeli War, Israel seized, occupied and took control of 1,250 km2 of the Syrian Golan (roughly 70% of the total land mass of the Syrian Golan, containing 344 villages and farms). Successive Israeli governments adopted numerous policies to control and contain the Syrian population since Israel began its occupation of the 'Occupied Syrian Golan'. They have destroyed numerous villages, driven thousands from their homes, expropriated private and public property, prevented the remaining Arab villages from expanding and actively stopped the free movement of people. In 1981, Israel enacted legislation that purported to annex the territory. This move was widely condemned by the international community and from the perspective of international law, the Occupied Syrian Golan remains an occupied territory to which the laws of occupation apply.
Report available here: 

Changing the Landscape: Israel's Gross Violations of International Law in the Occupied Syrian Golan
---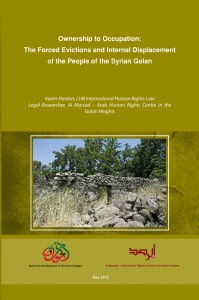 The Syrian Arab population of the Occupied Syrian Golan have endured persistent human rights violations associated with internal displacement and forced evictions. These violations have occurred as a direct result of Israel's land policies in its position as the occupying force within the Occupied Syrian Golan. Since its occupation in 1967 the Syrian Golan has been transformed from a thriving Arab community, based on agriculture and labour, to an area dominated by Israeli settlements, military training camps, and tourism. This report documents how this transformation and the land expropriation which took place within the Occupied Syrian Golan contravene both international humanitarian law and international human rights law.
Report available here: 

 Ownership to Occupation: The Forced Evictions and Internal Displacement of the People of the Syrian Golan
---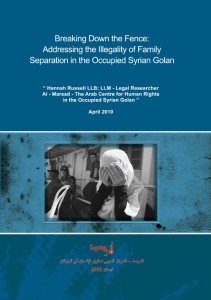 Following the 1967 Arab-Israeli war the Syrian Golan was occupied by Israel and divided from Syria. Due to Israel's illegal actions 130,000 people were displaced; a situation that persists. This resulted in families being torn apart and an insurmountable amount of heartache for those affected. After a number of years an application process for permits to visit Syria was introduced. However, this process has proven to be discriminatory and unpredictable. At present only selective categories of 'religious Druze men', 'students', 'non-Druze men over 35', 'women over 70' and 'apples' are eligible to cross the ceasefire line. Even then those who are eligible are not guaranteed passage. The Israeli authorities have been unable to provide any valid justification for treating the people of the Occupied Syrian Golan in this way. Their actions not only amount to grave violations of human rights and international humanitarian law, but have caused parents to miss their child's graduation, mothers to miss their daughter's wedding, grandparents unable to see their grandchildren grow up and children unable to attend their parents' funerals.
Report available here: 

Breaking Down the Fence: Addressing the Illegality of Family Separation in the occupied Syrian Golan
---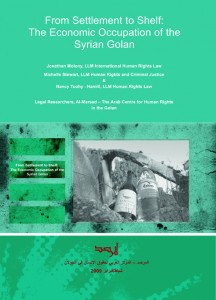 The Occupied Syrian Golan is a rich volcanic plateau with extremely fertile soil. The region is home to a huge variety of valuable natural resources, making it an ideal location for settlements and settlement industries. Since the occupation began, the Israeli authorities have aimed to implement policies which control the valuable resources in the region, in particular the land and the water. In recent times, this has manifested itself through Israel's encouragement of the establishment of industries and businesses in the region, which exploit these natural resources for commercial gain. In order to attract more settlers each year, the Israeli authorities are 'building new infrastructure and factories and creating various other economic opportunities'. Today, the economy in the Occupied Syrian Golan is dominated by settlers whose products – such as beef, cherries, apples, wine and mineral water – provide for a significant proportion of Israel's needs. Approximately 20% of the Occupied Syrian Golan's settlement produce is exported to twenty different countries, including Canada, Australia and the United States and several in Europe.
Report available here: 

 From Settlement to Shelf :The Economic Occupation of the Syrian Golan
Report summary available here: 

 From Settlement to Shelf :The Economic Occupation of the Syrian Golan – A Summary